Bowhunting with Decoys- Should You??
I suspect that many of you reading this article have not used Decoys a lot.  I was in the same camp until a few years ago because it tended to be an inconvenience to use a Decoy.  Many of the Deer Hunting Decoys in the past were tough to set up, heavy, and a pain to get in and out of the woods if you did not have a vehicle.  Today's Decoys are much lighter, easier to set up, more realistic, and more convenient to get in and out of the woods.  So, why do I use Decoys more now then in the past?  Is it because they are better or is it how I use them?  Possibly both…There are some really good decoys on the market today and I have gotten more strategic as to how I set up the Decoy and manage my scent.  I am going to share some of my tips and mistakes with you.  I have also asked Spook Spann from Spook Nation TV to share some secrets with you on how he uses Decoys to stick some monsters.
During the pre-rut you should consider using one or two small buck decoys along with the fawn decoy, as the bucks are more likely to be in fighting or sparring. As the rut progresses and bucks begin to  run does, consider using a buck and doe along with the fawn and often use two does and a buck decoy to get a mature buck fired up.  The goal is to get him to recognize the scenario and take action.  Many times a buck will see our set up but not chose to come in.  Creating these scenarios help to "trigger" that action.
I've used about every decoy on the market including many of the full bodied CarryLite decoys.  If you are going to use a silhouette decoy such as a Montana decoy.  Consider using two decoys set at opposing angles to give the impression of depth to a buck circling around the decoys.  When the rut is over does not mean you need to stop using your decoys.  During the late season you can use several decoys in conjunction with food plots to minimize a deers' skittishness, bringing them into the food plot during shooting hours.
As a bowhunter in my opinion you have to use as many resources as you can to get the job done on mature bucks.  In this review we discuss using decoys during certain times of the hunting season.  Decoys are not the silver bullet but during key times and scenarios they can be highly effective.  Below are a few examples of some of the bowhunting deer decoys are the market today.
Tips when using Decoys:
For best results, use the whitetail deer-hunting decoy in an 'archery only' area or during bowhunting seasons.
Place the Deer Decoy in a secluded area such as an open field so all the deer that may inhabit the area can easily see it.
Always handle deer decoys with clean rubber gloves, as deer are very sensitive to foreign odors.
To neutralize the decoy from all foreign scents, use a cover scent / scent neutralizer to cleanse the entire decoy of all foreign odors.
Use a deer attractant (deer urine) product applied near the decoy to add an extra measure of realism.
Two decoys, one buck and one doe, is a powerful combination at the peak of the rut.
Always transport the Carry-Lite Deer Decoy disassembled and packed in the large carry-bag included.
Carry-Lite takes the popular EZ Buck deer decoy to the next level of realism with EZ Buck HD.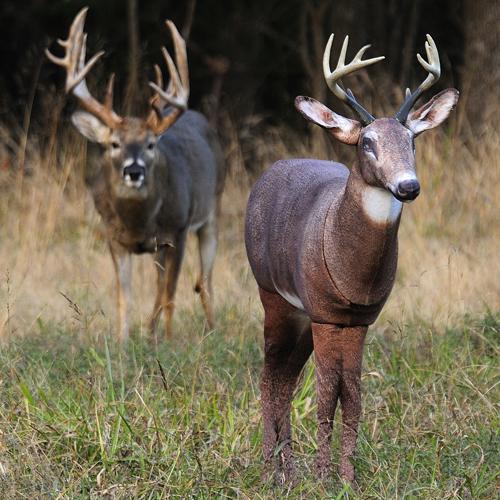 Incredibly realistic "skin" created using high-definition technology
"Skin" made from customized fabric that conforms to the realistic contours of EZ-Buck HD's body
"Skin" is designed to not only reflect sunlight, but to use it to enhance the colors only nature could create
"Skin" resists fading under normal use and conditions
Removable antlers for use as doe decoy
Realistic tail moves naturally in the wind
All parts can fit inside body cavity during storage and transportation
Includes decoy stakes and carrying bag
When decoying deer, movement of your decoy is the key success.  All hunters know that if they could get their decoy to move, it would be more realistic and put approaching deer at ease. With the SCAR™ deer decoy, the slightest breeze will move the head and tail naturally. Once a buck sees Primos SCAR™ Deer Decoy in his area, he will come in to investigate the intruder. Be Ready !
All of SCAR'sâ"¢ components: head, ears, antlers, and legs fit inside the soft body cavity.  This makes him easy to carry and cuts down on unwanted noise in the field.
Tips for use: Set up SCAR™ where he can be seen from a distance. Setting the decoy in the open, in range of your blind or stand will bring more deer by your set up. Handle your decoy with care. Be careful not to leave scent on your decoy. Store SCAR™ in an area where he will not pickup scent. Use rubber gloves when handling and spray him down with Primos® Silver XP™ Scent Eliminating Spray after you have him set up.  Experiment with different scents and lures to bring deer closer to SCAR™. Scent can be applied to the tail.  Call and rattle to get deer to respond to SCAR™.
Originally posted 2011-10-30 09:20:00. Republished by Blog Post Promoter
Incoming search terms for the article: