Archery Shooting Tips "Aim Small-Hit Small" Part 2
By Bill Lawson & Brian Stephens
www.StickemArchery.com
As you saw from Aim-Small Hit-Small "Part 1″ we focused on a Archery shooting technique that can increase your shooting skills as a bow hunter.  Now we want to take it to the next level by using the Aim-Small reference point at different angles.  We all know that most of the time a deer is not going to be perfectly broadside when we take a shot.  The animal is going to be positioned in various angles.  Based on this your Aim-Small reference point is going to move.
If the animal is slightly quartering away you will need to adjust your reference point to ensure you will still hit the vitals.  This point as you can see from the pictures may be higher or farther back compared to your broadside shot.  We like to use an orange circle target as shown in the pictures as our reference point to practice based on a variety of scenarios.
Another benefit of practicing using these scenarios is it can help you evaluate the angle of your arrow as it enters and exits the animal.  It is important to visualize the vitals of the animal as your Aim-Small reference point.  As an example, if you were to be in your stand and have a deer quartering away from you and you used the original Aim-Small broadside reference point.  You would most likely not hit any vitals and wound that animal.  In this situation you would move your reference point back to ensure your arrow penetrates vitals to harvest that animal.
Another archery shooting practice technique is to take your Aim-Small reference point and create some scenarios from your tree stand that allow you to practice tough shooting angles.  These would include a straight down shot or a shot where you would have to lean out around the tree for a shot.  We all know when the Rut is "On" a Buck could come in from any direction, especially if he is chasing a doe.  The bottom line is you need to have the CONFIDENCE to take a tough angle shot.  Practicing these types of shooting situations will help ensure you are able to harvest that animal when presented with an opportunity.  We have a few videos for  you to view that demonstrate these shooting scenarios.  Remember Aim Small- Hit Small.
Aim Small – Hit Small "Part 2″ Video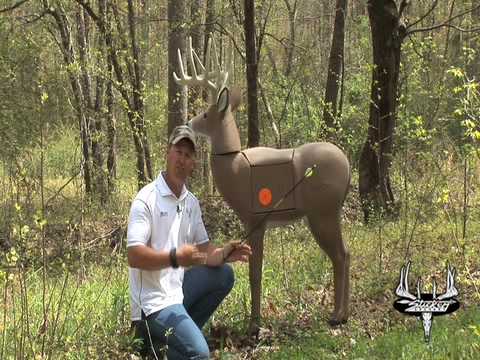 Originally posted 2009-12-17 17:01:25. Republished by Blog Post Promoter
Incoming search terms for the article: